How To Specify Recalls Alert Delivery Options
---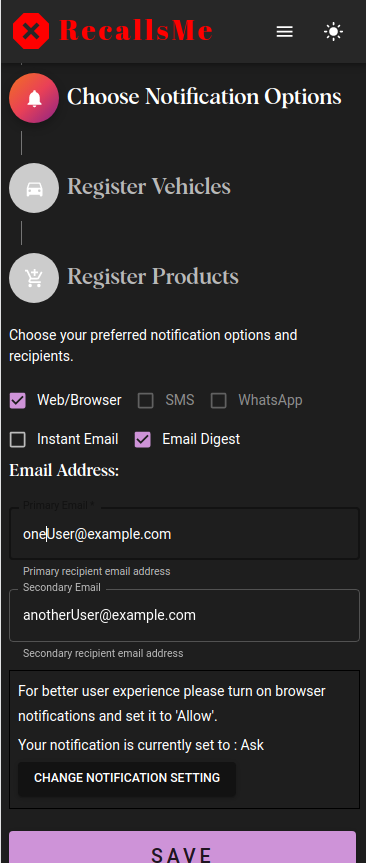 RecallsMe supports many types of recalls notification alert options. You can choose between Web/Browser push notification, SMS text notification, WhatsApp message notification, Instant Email notification or a summarized daily Email Digest notification. The standard text messaging rates from your wireless carrier may still apply. Any costs related with receiving a text message are the responsibility of the individual receiving it. As shown in the sample screen image, the PROFILE page with the Choose Notification Options step is clicked to display input fields for primary and secondary recipients' email. The alert develivery is only available to registered and email verified users. This option will be disabled for anonymous users.
Supply:
Mobile number and an email address for the primary recipient.
Mobile number and an email address for the secondary recipient.
Tools:
RecallsMe: PROFILE page
Steps
1. Sign Up/Sign In
Sign In if you have an account with RecallsMe website. Users without SignUp/SignIn account can not set delivery options.
2. PROFILE Page
Visit recalls.me and click on the PROFILE page to set up user preferences.
3. Select Choose Notification Options
Clicking on Choose Notification Options step displays input fields for primary and secondary recipients. For email delivery, enter a valid email address for each recipient. For SMS delivery, enter a valid mobile telephone number for each recipient. NOTE: WhatsApp and SMS support is planned.
4. Save Your Changes
Please do not forget to save your changes by clicking the SAVE button. The change will be effective immediately with the next set of real time notification alerts.