How To Register And Check Vehicles For Recalls
---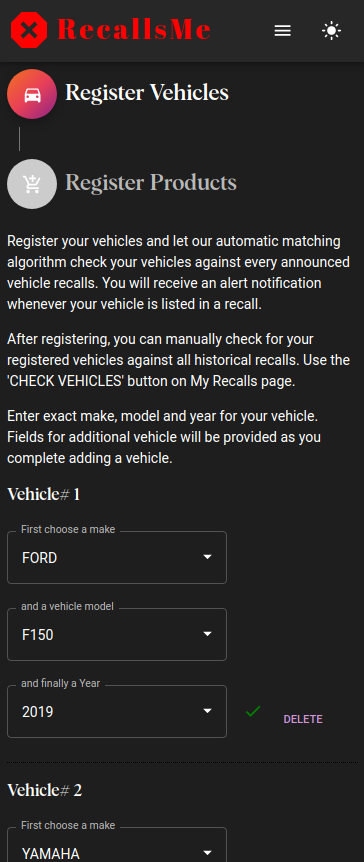 RecallsMe makes it very easy to register your vehicles and have RecallsMe do the automated checking on your behalf to detect if your vehicles are recalled. As shown in the sample screen image, the PROFILE page with the Register Vehicles step is clicked to display input fields required for registering your vehicles. Here we have entered HYUNDAI, F-150 and 2019. As you fully enter vehicle information a new set of fields will be displayed for you to enter information for your next vehicle.
Supply:
A list of your vehicles with details for make, model and year.
Tools:
RecallsMe: PROFILE page
Steps
1. Sign Up/Sign In
Sign In if you have an account with RecallsMe website.
2. PROFILE Page
Visit recalls.me and click on the PROFILE page to register vehicles.
3. Select Register Vehicles
Clicking on Register Vehicles step displays input fields for your vehicles. Enter the make, model and year for each vehicle.
4. Save Your Changes
Please do not forget to save your changes by clicking the green SAVE button. The change will be effective immediately with the next set of real time notification alerts.
5. Suppress Receiving Alerts From Vehicles Category
You may want to suppress receiving notification alerts from Vehicles Category. Now that you have all of your vehicles registered, you may no longer require receiving vehicle alerts from general vehicle recalls. See: How To Specify What Recalls Alert To Receive.