How To Register And Check Product Recalls
---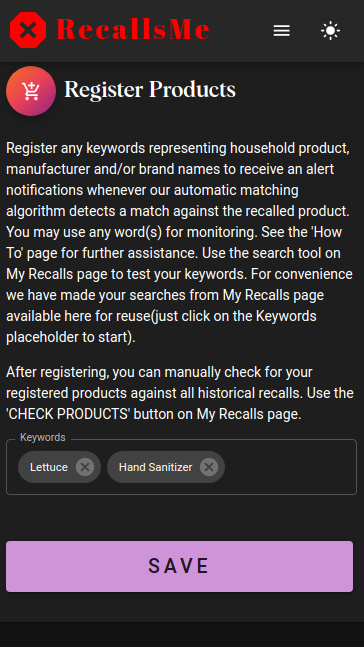 RecallsMe offers a very useful feature to make it very easy for you to track various everyday consumption items for potential recalls. Simply enter the manufacturer, brand, product or trade name to register your products and let RecallsMe do the automated checking on your behalf to detect if your everyday consumption products are recalled. As shown in the sample screen image, the PROFILE page with the Register Products step is clicked to display input fields required for registering your products. Here we have entered Lettuce and Hand Sanitizer. We suggest you enter your products after doing a search against the historical recalls and checking the results. The search allows you to compose your search terms according to your needs and specificity. For your convenience we have also made your searches from the MY RECALLS page available here on PROFILE page for reuse. Just click on the field to list previously entered searches and select the desired search terms.
Supply:
A list of your products to monitor for recalls.
Tools:
RecallsMe: PROFILE page
Steps
1. Sign Up/Sign In
Sign In if you have an account with RecallsMe website.
2. PROFILE Page
Visit recalls.me and click on the PROFILE page to register products.
3. Select Register Products
Clicking on Register Products step displays input field for entering one or more products. Enter the manufacturer, model, brand, generic name or brief description of a product.
4. Test Your Product
We recommend you use the Search feature to first compose the search terms for your product and then check the results to see if it meets your expectations. If satisfied, use the same search term to register your product by clicking on the product entry field to see a list of all your prior searches and select the desired search term rather than retyping. Read the How To Search For Any Recalls for details on how to best compose search terms. Various search options are available to control the size of search results.
5. Save Your Changes
Please do not forget to save your changes by clicking the SAVE button. The change will be effective immediately with the next set of real time notification alerts.
6. Suppress Receiving Alerts From Various Category
If you have registered the required products, you may want to suppress receiving notification alerts from various product categories to avoid unnecessary recall alerts. See: How To Specify What Recalls Alert To Receive.