How To List & Filter Recalls
---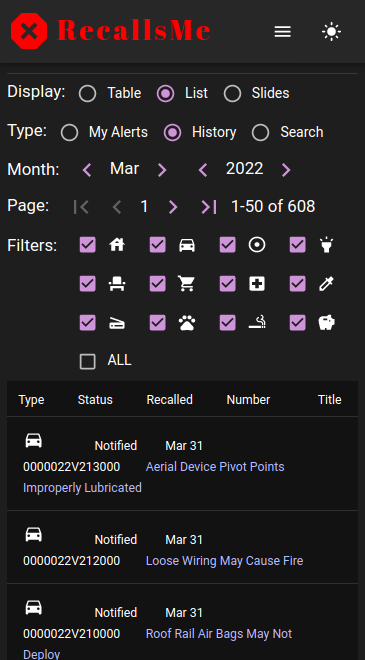 RecallsMe provides a summarized listing of recalls for any month. This comprehensive list includes recalls from every government agency having a recall during the month. Each recall is tagged with a category and can be filtered using the provided check boxes. As shown in the sample screen image, a List option is selected for displaying recalls, the Month is set to Mar, the Year is set to 2022 and all filters are enabled. The listing is currently showing three recalls associated with the vehicles category. You can view remaining recalls by using your device's scrollbar and view the next set of 50 recalls by clicking on the Next Page traversal button.
Supply:
Year of recall - 2022
Month of recall - Mar
Tools:
RecallsMe - MY RECALLS page
Steps
1. Sign Up/Sign In
Sign In if you have an account with RecallsMe website.
2. MY RECALLS Listing Page
Visit recalls.me and click on the MY RECALLS page to view a recalls listing. For a quick preview, you can choose from a tabular listing or compressed list. Alternatively, you can click on Slides to view all recalls with details in a slider view.
3. Select Month & Year
Use the back and forward arrow buttons to traverse to the required month and year.
4. Use filters
Click on ALL to set/reset all or none filters. You can also use an individual filter checkbox to enable or disable display of recalls from the corresponding category. Hover on each icon to display text label.